Meet the Broncos
The Bronco Family is vast, with a reach as far as you're willing to take it and a legacy that spans generations. And the tree keeps getting bigger. At its core, a wild spirit takes root, raring to take you outdoors, off-road, and to places you've never gone before.
 2022 Bronco
There are two special-edition Ford Bronco models being added to the stable, Bronco Raptor™ for high-speed off-roading and Bronco Everglades™ which features a number of factory-installed accessories to help you confidently explore far off the beaten path.
Preproduction computer-generated image shown. Available summer 2022.
 2022 Bronco Sport
The Bronco™ Sport is another proud edition to the legacy. It is your ultimate wilderness guide with four unique series engineered to match the way you experience the outdoors. Each is expertly equipped to get you out there - to the mountain ranges, the woodland trails, and the scenic shores. Your adventure begins in a Bronco™ Sport and it never ends.
Computer-generated image.Shown with available Ford accessories.
Bronco™ SUV Has Got It Where It Counts
There's a whole world out there just waiting to be discovered. With its toughness and durability, the all-new Bronco™ was built to carry outdoor enthusiasts to wherever the wilderness calls.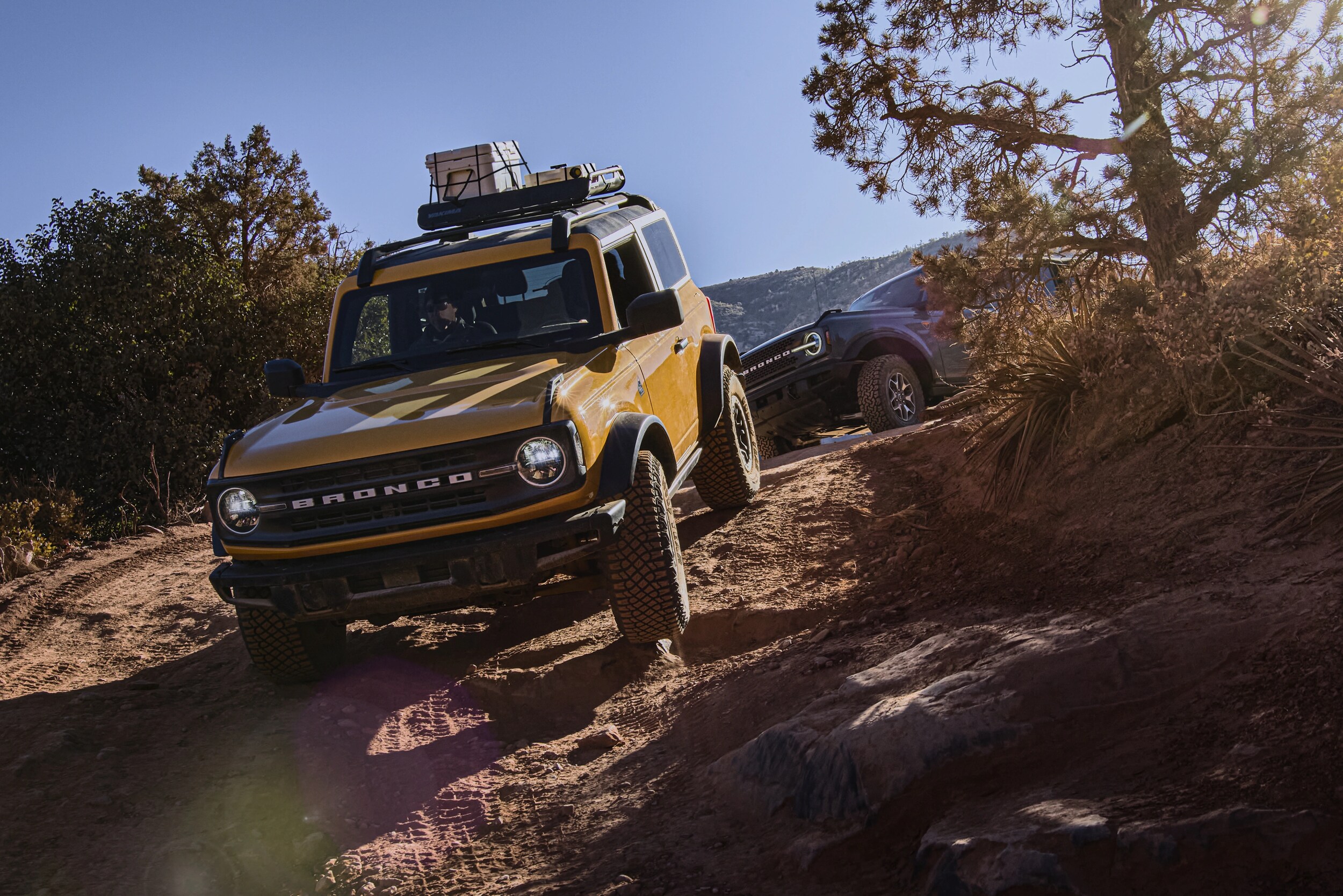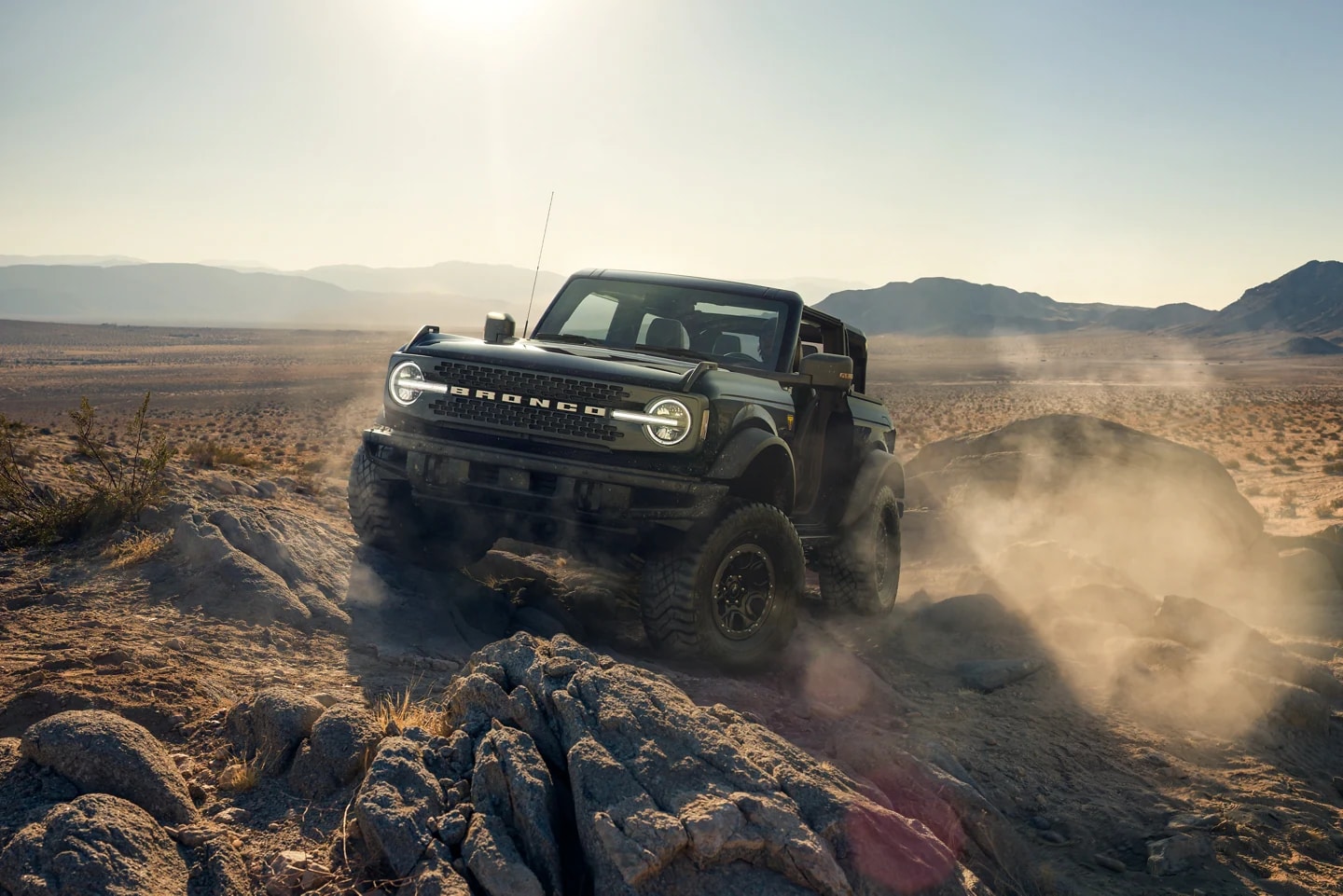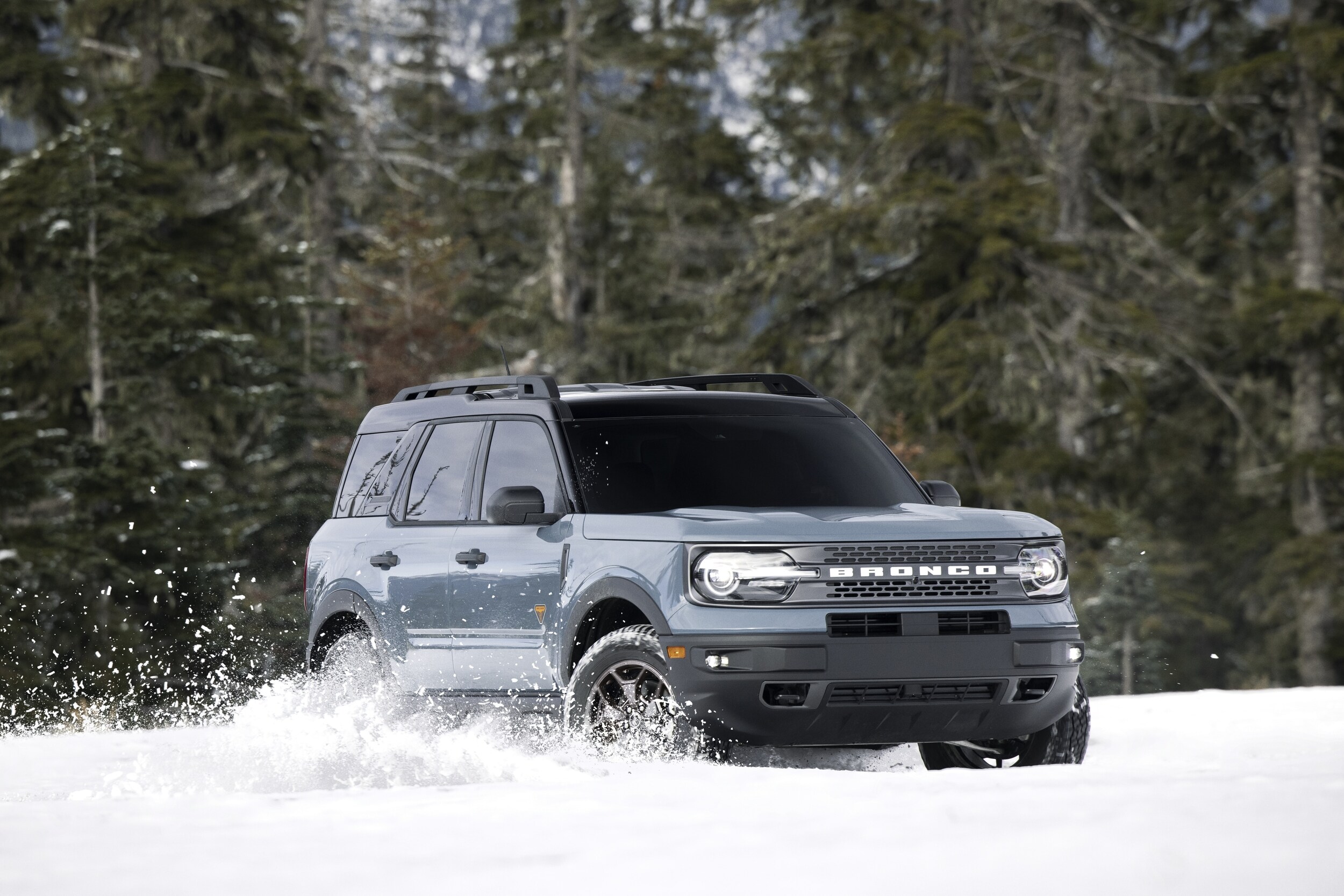 G.O.A.T. Modes™
The Bronco™ SUV features the Terrain Management System™with G.O.A.T. Modes™to deliver tailored driving experiences through a suite of sophisticated electronic vehicle systems. Bronco has up to seven available G.O.A.T. Modes (Normal, Eco, Sport, Slippery, Mud/Ruts, Sand, Rock Crawl and Baja), depending on trim level, to tailor vehicle performance on various surfaces or conditions. These systems optimize steering, handling and powertrain response to allow a customer to operate the vehicle with confidence either on the road or off.
Sasquatch™ Package
The Sasquatch™ Package is available on every Bronco™ series and standard on Wildtrak.™ Package includes 35-inch tires with 17-inch beadlock-capable wheels, front- and rear-locking differentials, 4.7 final drive ratio with electronic-locking front and rear axle. There's also a high-clearance suspension and high-clearance fender flares. Also, due to high demand, the Sasquatch Package will be available in 2022 with manual transmission.

Preproduction computer-generated image with optional equipment shown. Removal of doors for off-road use only.
New Capabilities, Colors and Models Await in 2022
The 2022 Ford Bronco™ SUV is ready to help shift your perspective and push boundaries on your terms, with a newly available manual transmission with the Sasquatch™ Package - and it doesn't stop there. There are also two new color options, two Special Edition models and much more to come on the horizon.
Preproduction, computer-generated image shown. Vehicle deliveries expected to begin first quarter 2022 and extend throughout the calendar year. Not representative of vehicle ordered.
Blaze New Trails in a 2022 Bronco® Everglades™
The new 2022 Bronco Everglades will be equipped with a Bronco-first, factory-installed Ford Performance by WARN® winch kit and air-intake snorkel, perfect for confidently taking on extra-muddy trails and overland treks.
Preproduction model shown with optional equipment and Ford Accessories. Always determine the water depth before attempting a crossing and proceed slowly. Refer to your Owner's Manual for detailed information regarding driving through water. Available summer 2022. Limited availability.
Introducing the Desert-Racing, Rock-Crawling 2022 Bronco® Raptor™
Meet the 2022 Ford Bronco® Raptor,™ the world's first Ultra4 Racing-inspired SUV. Built to take on the toughest terrain at high speed and for confident rock crawling - it's truly Built Wild.™
Preproduction model shown with optional equipment. Removal of doors for off-road use only. See Bronco Owner's Manual for detailed information. Always consult the Owner's Manual before off-road driving, know your terrain and trail difficulty, and use appropriate safety gear. Available summer 2022.

Standard Soft Top on 4-Door Wildtrak™
The 2022 Ford Bronco
™
 Wildtrak will feature a standard black soft top on 4-door models, which can function as a sunshade with the side panels removed or be folded back for an expansive, open-air experience. It also comes with a special tilting feature for easy access to the rear cargo area. Hard top is standard on 2-door models only.

All-New Slide Out Tailgate
New for 2022, the available slide out tailgate adds more versatility to the Ford Bronco with its ability to function as a table, work surface or step to access rooftop cargo. Once you're done, it conveniently stows under the load floor, so you don't have to remove any gear. *
Available late 2022.*Prevents on-vehicle door storage. Applies to 4-door models only.

New Powder-Coated Steel Bumpers
Standard on 2022 Ford Bronco Black Diamond
™
 and Badlands,
™
 the powder-coated steel bumper with integrated LED fog lamps and tow hooks provides rugged durability and excellent off-road clearance.