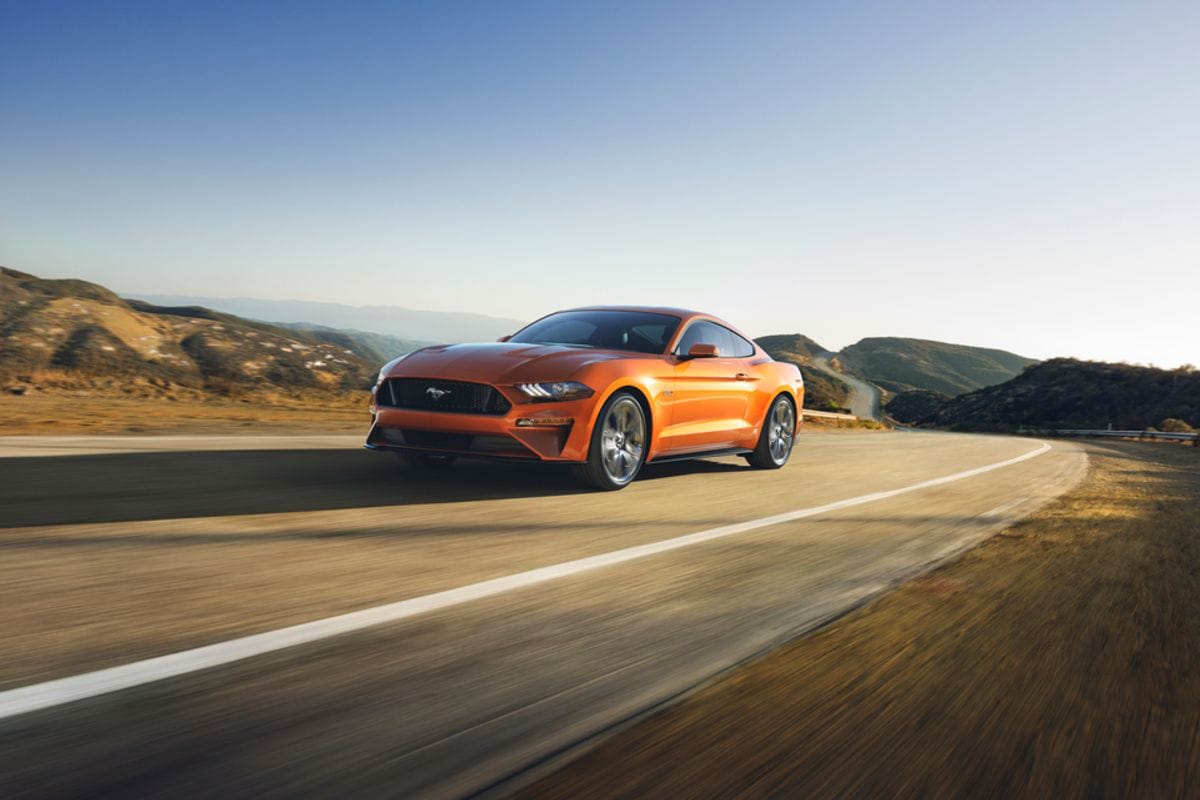 See what the Ford Mustang is Really About
At Wilson Ford Lincoln in Saginaw, MI, we are very excited to include the Ford Mustang in our diverse lineup of Ford vehicles. The Mustang has some impressive specs and some seriously useful modifications available. We want to make sure that you can find the car you love at the price that works for you, and the Ford Mustang is just that.
Ultimate Drivability
We at Wilson Ford Lincoln agree the Ford Mustang stands up to its reputation. It is instantly quick once you hit the gas, and always fun to drive. The Ford Mustang can reach 60 miles per hour in a mere 4.6 seconds and stop in under 120 feet. The braking is sensitive yet firm and makes the Mustang a real contender to any performance car. Steering and handling are also worth bragging about as they are sensitive and quick in any situation, allowing you to always maintain control. The Mustang is capable, and its gear changes are smooth and calculated leaving you with a car that's more than just looks.
Complete Comfort
Ford certainly refused to sacrifice comfort when they built the Mustang. The Ford Mustang has seats fitted to the human form and it does an excellent job of eliminating nearly all of the outside noise that the powerful V8 engine brings on. The seats of this beauty are well ventilated, letting you cool down easily on hot days.
Moreover, the Ford Mustang maintains comfort while its drivers and passengers are exiting or entering the vehicle. The wide doors allow a great amount of space upon entering, and additional leg room is a serious plus. The interior is on par with the exterior of this beauty, displaying nicer materials to line the doors and dashboard.
Tech Specs
The Ford Mustang has some really impressive new technology to take advantage of. The audio and navigation deliver crisp, full sounds and the optional digital dashboard makes it easier than ever to set yourself up with directions and control music. More optional technology upgrades include:
Voice control - allowing easier, hands-free commands
Frontal collision warning
Adaptive cruise control
Blind spot monitoring
Lane keeping assist
What Can it Carry?
The Ford Mustang does a really incredible job of making sure you can still access the utility of this vehicle. The personal and small item storage at the front of the vehicle is certainly ample. The cargo space is well above average for a performance vehicle of this type with the trunk's opening being nice and wide at 13.5 cubic feet.
Financing is No Problem!
At Wilson Ford Lincoln we have an incredible finance department to help you get into the Mustang of your dreams. Our flexible hours make it easy for you to talk through leasing a Mustang or other Mustang offers. We also have a convenient online credit estimator to get you a reliable score. We are more than happy to provide you with a value estimate for your trade to make it easier to trade in and move forward with the purchase or lease of your new Mustang. Reach out to us at 877-349-2350 for more information on navigating our helpful finance pages.
Try it for Yourself!
Wilson Ford Lincoln is located just off I-75 on Bay Rd. We recommend that you come in for a test drive, and to properly meet the Ford Mustang in person. We know this awesome vehicle will pique your interest beyond belief, and can't wait to make you the proud new owner of the Ford Mustang.
Make an Inquiry